Mozambique
marromeu safaris

COUTADA 10
Airport: Beira + 45 minutes flight to the camp
Marromeu Safaris – Coutada 10 is a hunters' paradise, incorporating the great Zambezi river floodplains, grasslands, forest and swamps all of which are the habitat of huge wild herds of Cape Buffalo, of Sable, Leopard, Lion, Elephant, Hippo, Crocodile, and the elusive forest Duikers, Suni and Oribi and other plainsgame.
We will uniformly utilize these game populations to maintain a good balance to further improve trophy quality in Coutada 10. We will not be offering the hunter a "hunt of a lifetime" but rather a "lifetime of hunting".  Thank you in advance to all the hunters who will be contributing in the future.
An established charter company will fly you from the airport of Beira, the 45 min flight into camp.
Built from indigenous hard woods and sheltered under the large forest canopy, the camp offers en suite bathrooms, flush toilets, hot and cold running water and power trough generator. Meat from teh hunting is served and supplemented with fresh fruit and vegetables. At capacity the camp can accommodate 20 people and also offers the option of exclusivity.
Buffalo, Elephant, Leopard, Hippo, Crocodile and Hyena are available to the dangerous game hunter, as well as a variety of plains game including monster warterbuck, common reedbuck, oribi, sable, chobe bushbuck red and blue duiker, suni, warthog, nyala and the Livingstone Eland.
Buffalo hunting in Coutada 10 is extremly unique. Apart from the buffalo inhabiting the forest area, the option of hunting in the swamps using Argos for Africa's Black Death is what makes this a hunt like no other in Africa.
Marromeu Safaris offers you the opportunity to hunt this unique piece of Africa. Over 500.000 acres of swamps, grassland and scattered thick broad leaf forest- once the hunting grounds of the famous Wally Johnsosn and Harry Manners -lie within Coutada 10. Bordering teh Marromeu Buffalo Reserve and many miles of the Indian Ocean, the area, lies along the Mozambique coastline where the Zambezi River flows int the sea. This is the Zambezi Delta system, and accurate counts have the current Buffalo numbers exceeding 13.000.
Bow hunters are also welcome and will enjoy a high success rate.
Program: Please contact us to receiveyour unique price proposal.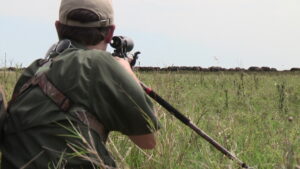 Hunt with us in Mozambique
If you are interested in our
Hunting packages for Mozambique,
please get in touch with us,
so we can send you a personalized offer!