big game trophies per year
OUR HUNTING AREA- FUZERKOMLOS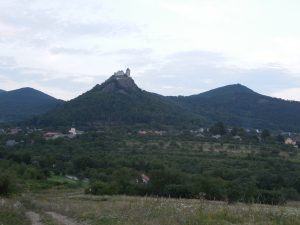 Travel: Hungary- Budapest – Liszt Ferenc Airport (3-3,5 hours to the hunting area)
Big game species: Red deer,Roe deer, Mouflon, Wild boar
Type of hunting: stalking with rifle, bowhunt
Hunting area: We are looking forward to welcome you in our 7000 hectares hunting ground in Hungary in the Zemplen mountains. We are offering you a huge number of great quality trophies, mostly red stag, roe buck, wild boar and moufflon.
Accomodation: A family-run, cosy hotel in the middle of the hunting ground is waiting for you, where you can spend some lovely relaxing days accompanied by your family or hunter friends.
As an outfitter, it is very important for us that besides the quality of the trophies you are escorted by great professionals, that's why we are keen to choose and constantly train our PHs.
Only a short drive away from Kosice (SK) your hunting holiday will be calm and perfectly organized thanks to our experience we gained in over 20 years working as outfitter and hunting organizer.
We speak English, Spanish, German and Turkish, and of course, Hungarian, so we can fascilitate to communication between you and the local staff.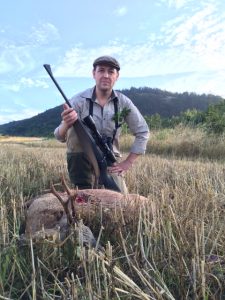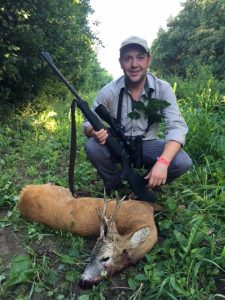 Roe deer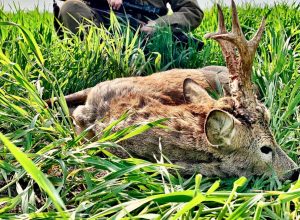 Hunting season:  The season starts on 15th April and the best period for hunting is between 15th April and 5th May. Later on we continue with the rutting season, from the end of July till the beginning of August. As this is a veryuncertain time period , we would recommend to plan with 5-8 roe bucks to hunt.
Type of hunting: stalking
Hunting area: The best time to hunt roebuck in Hungary is traditionally the second half of April or the beginning of May. We have created all our offers for group of friends to spend some wonderful days in our gorgeous country.  We are at your disposal to organize your hunting trip based on your requirements, whether you would prefer to hunt on your own, or with your family or friends. For hunters wanting to shoot large trophies, we recommend the region of Alfold (Hungarian Great Plain), for example in the region of Kiskunsag, in Szolnok and Szabolcs County, are also worth being considered. In these areas, roebuck with angtlers weighing 250-650 gramm can be shot. In the west of Hungary most roebuck are shot from raised hides, but in the east, due to the vast open plains, one has to hunt from vehicle and the shooting distances are often 150-300 m.
We co-operate with the best hunting grounds all over Hungary.
Accomodation: castle, hotel and hunting lodge
Program: Most of our programs consist of 3 hunting days, 4 nights.
Please send us an inquiry so we can prepare your personalized offer with all informations.
WILD BOAR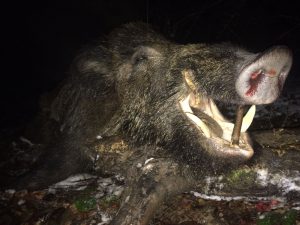 Hunting season: Currently, we are unable to recommend wild boar hunting due to ASP.
Tusker- all year. The tusker can be hunted all year round in Hungar, therefore we often organize a combined roe deer- red deer or /and mouflon program.
Type of hunting: from high seat, stalking, drivenhunt
Hunting area: Wild boar is the most widespread game species in Hungary. Wild boars may be hunted throughout the year. The biggest wild boar population can be found in the hilly forests or in hilly countryside bordering cultivated areas. It is possible to hunt big boars in forestry areas, where there is a large population of wild boars.
Thank to our good relations developed during the 20 years we have been working in the hunt organizing industry, we have the privilege to choose from the best hunting grounds all over Hungary, depending on our guests' requests as for quantity or quality of wild boars. Driven hunt: In a fenced area, the ideal is to have 3-8 hunters per group. This way you can hunt 50-100 wild boars a day.
Program:
Stalking: These programs last 1 or 1,5 hunting days.  The posts are almost always on high seats. We work with highly professional PHs. You can be part of an eventful hunt.
In case of you prefer to come with your family, we are delighted to help you to put together a complete program of 4-5 days in the countryside and 2-3 days in Budapest, with sightseeing.
Driven hunt: These programs are with 2-4 hunting days.
Do not hesitate to get in touch with us for your personalized offer. 
fallow deer
Hunting period: 1.Oct- the last day of February 
Type of hunting: stalking or from high seat, rifle hunting, bow hunting.
Hunting area: We organise exclusive  individual hunt on almost 100.000 hectares of open hunting ground in 4 region in Hungary. The hungarian fallow deer is very unique. 5 out of 10 World Record trophies are from Hungary. Also, the actual first and second prize is a hungarian deer. We hunt here extremely high quality fallow deers with special genome. The average size is between 150-170 CIC points, but the gold medal ones can exceed 180-185 CIC points. 
Program: During breeding, 2 hunting days are sufficient, but we always recommend 3 hunting days. 
RED deer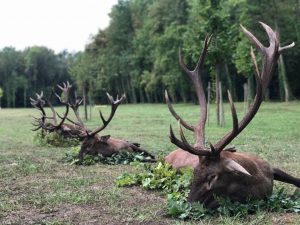 Hunting period: 1. Sept- to 31 of January
Type of hunting: stalking with rifle or with bow
Hunting area: The stag is the "king" of the Hungarian forests.  To hunt during rut is an unforgettable experience for any hunter. Hungary is – and always has been – regarded as the classical country for red deer hunting. 
In Hungary, September is the rutting-time. It starts at the beginning of September in the south of Hungary and ends in the more hilly north at the end of September or the beginning of October. Red deer stags are either hunted by stalking or from a raised hide. For a successful hunt, guests should plan at least five hunting days.  Guests who do not wish to hunt during the rutting but want to hunt cull stags during the late autumn and winter months, should be aware that it is much more difficult to shoot at this time of the year, even in very good red deer hunting areas. The majority of the hunting areas are free zones.
Accomodation: hotel, castle or hunting lodge
Program: The red stag hunt can be combined with wild boar, fallow deer (October-November) or mouflon hunt. In most cases you are hunting 4-5 days in 6000-10000 hectares and if you wish so, we can include mouflon and/or wild boar in your package.
In Hungary there are many big red deer trophies, therefore it is a beloved place for foreign hunters. Mostly you see and hunt medal ones, from 210 international points. 
mouflon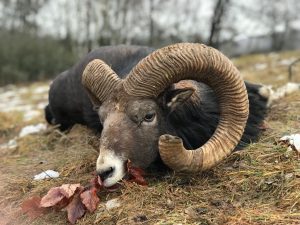 Hunting period: 1. Oct- to the last day of February
Type of hunting: stalking with rifle
Hunting area: Hungary abounds in good hunting ground of mouflons. The best ones are lovated on the North of lake Balaton, next to the Slovakian border (Northern Hungary) and North- East Hungary, in the Zemplen mountain. We can guarantee you 80-90 cm long trophies. We are hunting in the mountings and the method is always a mixture of staling and from high seat. We hunt90+ cm mouflons in great quantity, not5 far from Budapest in a fenced area (1300 ha). 
Accomodation: castle, hunting lodge
Program: If you hunt in fenced are, 1 or 2 hunting days are enough, but if you prefer to hunt in an open area, we would recommend you 3 hunting days.
small game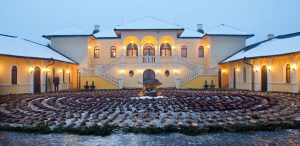 Hunting period: from August to end of February
Species: Pheasant, Mallard, Wild goose, Greylag goose, Wood pigeon, Collared dove, Brown Hare 
Type of hunting: driven hunt
Hunting area: Hungary is also very famous for the pheasant and duck hunts. Depending on your request, we can arrange you mixed hunts of birds in winter .
Especially the pheasant hunt is one of the traditionally most important hunts. Every year we bring about 4,000 pheasants to the track. Hunting for individuals are organized in the given data. For groups of 6-15 hunters with a minimum order amount of 200 pieces of ga
Program: Don't hesitate to get in touch with us, we will send you your personalized offer.
Get in touch with us!
Let us take the weight from your shoulder!   Just pack your luggage and come to hunt, we arrange everything for you!